Madrid, Spain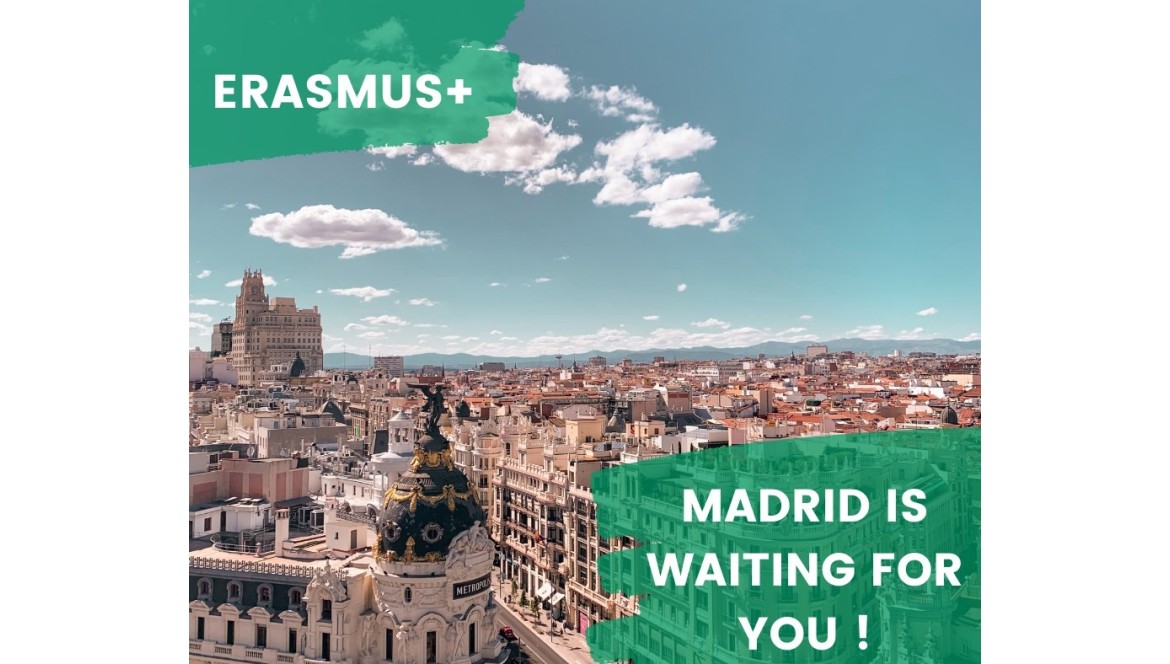 Article about Madrid, Spain
Rich history? Endless sunny days? A capital with infinite opportunities? Madrid is all that. 
Located on the Manzanares River in the central part of Spain, Madrid offers a little something for everyone. Beginning with its fascinating culture and many museums, through its numerous parks and finishing with tasty local cocina, a person can easily get used to Madrid's daily life.
According to the global network of travel agencies, Virtuoso, Spain, is one of the top 10 international destinations for the summer of 2022. And the lively capital, Madrid, is finding its way on almost every Europe's tourist bucket list.
But what if Madrid turns into something more than just a vacation? What if it becomes one's home from where they can do an internship for a couple of months? It may sound too good to be true, but, in reality, it is possible. And you are about to find out how. 
TraineeLand is an international training academy that offers internships for Bachelor's, Master, or vocational students. It aims to allow students to practice their knowledge and enhance further their skills. And what better way to do that than an internship in another country where you can become better at your desired field and gain some insightful life skills?
Students can apply for an internship in their desired field and choose between the biggest European cities, including Madrid. TraineeLand's programs include law, management, marketing, economics, finance, banking, international relations, political sciences, human resources, tourism, and more. As long as there is an open position in Madrid, students can apply for it and work on-site for a couple of months.
Another benefit for the applicants is they can apply for TraineeLand's internships with the Erasmus+ program and receive a grant based on the internship's duration and the living standard of their desired country. Students can apply for a minimum of two months up to 12 months. Usually, TraineeLand encourages students to discuss their options with their universities and Erasmus coordinators, who can assist them further and give more detailed information. However, the firm has an experience with Erasmus+ paperwork and is always ready to help in case some questions come up.
And after all the paperwork is taken care of, it is time for the more pleasant things. One may wonder why Madrid would be a good place to do an internship as a student and spend a couple of months there.
1. If You Love and Admire the History, You Will Never Get Bored in Madrid
With a rich history dating back to the ninth century, Madrid is considered one of Europe's most historically rich cities. With more than 100 museums, it is easy to escape the hot sunny days and get lost in Madrid's cultural and artistic heritage. Either take the famous Art Walk (Paseo del Arte) between the three most famous art museums and spend your whole day between the paintings of world artists. Or you maybe prefer to get to know Spain's maritime pursuits at the Naval Museum? Do not worry. Madrid has something for everyone. 
2. Madrid Is Full of Young and International People
According to statistics, in the last two years, Madrid has been home to more than 200 000 international students. Not only the education system in Spain is considered one of the best in Europe, but students find it attractive for future career and employment opportunities. Therefore, students who decide to do an internship in Madrid would surround themselves with different people who went there for similar reasons - to study, work and succeed in the future. 
Many students are afraid they will feel lonely if they go alone to do a traineeship abroad. But the truth is they will not as long as they are not afraid to meet new people and get to know them. And Madrid would be the perfect place for that.
3. Language 
Some people are usually nervous when it comes to the language barrier in another city. The question always remains the same: Will everyone speak English? In reality, among the most populated capitals in the world, Madrid is moderate regarding English skills. But that does not mean everyone you will meet will speak it, especially the older people. However, a person should not have a problem getting along well with others in the central part of the city or big supermarkets. In case you are in the mood to try something different, like any other big city, Madrid is full of private tutoring centers where you can learn some Spanish if you want to. Not only will locals respect you more, but they will be so happy if you try to speak their language as a foreigner. 
Here are some of the best places in the city of Madrid where you can sign up for a Spanish course: 
https://www.ailmadrid.com/en/14/5/Spanish-Language-Course
https://www.ihmadrid.com/en/spanish/courses/
https://laemadrid.com/
4. Warm City, Warm People
People in Spain are usually very open to chatting and telling you a story while you are on the bus, for example. Unlike other big cities, locals in Madrid are very friendly to foreigners and are willing to help them if they need something. Another thing that you can expect from Spanish people is they can give you something for free after you chat with them and have a friendly conversation. Overall, Spaniards try to make you feel good and comfortable, so you will never feel like you do not belong in their country.
One thing everyone knows and probably dislikes about Spain is the extremely hot weather in the summer. Average temperatures are usually around 40 degrees Celcius and locals may be used to them, but tourists have difficulties adapting. Luckily, there are some tips and tricks which one can try to escape from the warm days. 
Carry a fan 
This is a perfect method for self-cooling on your way to work or during lunch break. You will notice Spanish people of all ages carry a fan and use it all the time and trust us - they know how to deal with the heat.
 Go to a park and grab a cool beverage
Luckily for you, Madrid is full of parks where one can find a thick shade and throw a picnic. Pick up a blanket, prepare some lunch and a cool beverage, and head to the nearest park. Prepare that there will be many people probably escaping the heat like yourself, but there should be a spot somewhere on the grass waiting for you.
Chill near a pool
Madrid has a couple of public swimming pools where locals like to cool off on warm days. Either head to the two pools in Lago in the Casa de Campo park or if you are feeling more adventurous, visit the natural pools on the outskirts of Madrid. A place where you can do that is Cercedilla, in the Sierra de Guadarrama mountains north of the city. 
Siesta, eat, repeat! 
One thing Spanish people are famous for is the so-called "siesta" which includes sleeping during the hottest hours of the day. Of course, not everyone can afford a nap in the afternoon during the weekday, but if you can, it will really help you energize and rest from the heat. After you sleep, you can wait for the sun to set and head out somewhere to eat. Usually, Spaniards eat later than other people when the weather is not that hot, and they can have a walk in the city. 
Try to use more public transport 
Luckily for you, public transport in Madrid is air-conditioned and no matter how tempting and beautiful the streets of the town are, locals prefer to hop on the bus or the metro. Just do not forget to get off at your stop since the cool temperature can be addictive. 
5. Fiesta 
Spanish people are famous for the fact they like to party, and Madrid is the perfect city for that. Even though you have come for an internship there is always the weekend when you can relax and go to a party. There are many clubs from which you can visit or bars where you can have a beer, and a nice conversation with a friend. 
6. Cuisine 
Throughout the years, Madrid has prepared dishes with meat, legumes, and seafood. There, you can try not only local cuisine but international as well. When it comes to traditional Spanish dishes, locals enjoy everything from deep-fried Lamb tripe (Gallinejas And Entresijos) to a Squish sandwich, being one of the most famous traditional street foods. If you are craving something sweet, you must try the Churros and Porras – simple, but very delicious fried dough sprinkled with sugar. Either way, there are a lot of different directions to go with Spanish cuisine.
Are you feeling like doing an internship in Madrid already? Send us your CV to: traineeland@gmail.com, and we will explain more about the available internships and positions in Spain.